Hi All —
I forked some of the work of Eddie Webb and Matthew Daly's search explorations to build a fuse.js-based, keyboard-first, super-quick, light-as-possible client-side search for Hugo.
To see it in action, go to craigmod.com and press CMD-/ and start typing.
---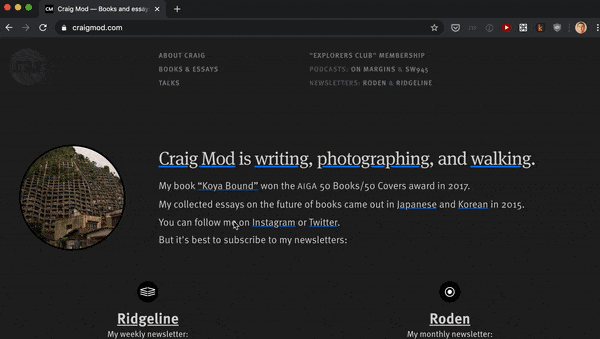 ---
I believe Fast Software is the Best Software and built this with that in mind. This method was highly inspired by Sublime Text's CMD-P/CMD-shift-P method of opening files / using functions.
The core precepts of this exploration were:
Minimal / zero external dependencies (no jQuery)
Smallest possible size added to each page
json index only delivered when needed (further minimizing overall impact on page speed / user experience)
Keyboard friendly, instant navigation (ala Alfred / macOS Spotlight)
As Eddie Webb points out, this method has the additional benefits of:
No NPM, grunt, etc
No additional build time steps, just hugo as you would normally
Easy to swap out choice of client side search tools, anything that can use a json index
I put up a gist with all the bits and pieces. I an by no means a javascript expert, so please, clean up as you see fit:
---
Hope you find this as useful as I do.
Thanks to everyone for the great software and community.
C